Green Bluff To Table
   I am privileged to be able to live in one of the most beautiful communities in the state of Washington, Green Bluff.  Green Bluff takes up 12 square miles in the northeast corner of Washington. In this space, there are currently 37 farm families, who are open anywhere from April to December, growing and creating yummy and beautiful items.  These farmers have come together to form the Green Bluff Growers Association, a symbol of excellence. My family and I have been one of these growers for about 17 years at Cherry Hill Orchard & Market. We have fallen in love with the area and our neighbors.
    To show off some of the fun and yummy aspects of Green Bluff, I dreamed up a fun event called "Green Bluff To Table" and invited a few friends to join me! This event showcased four farms, a caterer, and fruits, vegetables, and herbs from many different orchards on Green Bluff.
   Our first visit was Big Barn Brewing It has a friendly, local atmosphere which makes you feel right at home. Our favorite day to visit is Sunday when they have a live band and a food truck (2:00pm – 5:00pm) from May through October. At our first stop, we enjoyed Big Barn's Mead Honey Lager, which is crafted from farm fresh local honey and has a clean, crisp, sparkly taste. It is one of my favorite brews! At each location, Greenbluff Fresh Catering Company served us a different dish. The first serving was an appetizer where they used peaches from Yaryan's Orchard and basil from Strawberry Hill Nutrition Farms. It was a sweet and savory crostini with triple cream and peach prosciutto compote with basil and it was to die for! Most of us got seconds.
    Our second stop was Hierophant Meadery. Jeremy and Michelle Kyncl have lived and operated their business on Green Bluff now for six years and have enjoyed introducing Washington to the Mead culture. Mead  (aka honey-wine) is made from fermenting honey and water and is the oldest known alcoholic drink. They also see a bigger purpose for bringing this beverage to the community. "If you can help people care about bees, because they care about our drink, then we are positively influencing our local culture." said Michelle Kyncl. Besides honey-wine,  Michelle and Jeremy are also known for their Elderberry Syrup, Kombucha, and animal sanctuary. The animal sanctuary makes this visit to Hierophant Meadery extra fun, because you never know what farm animals will come greet you. Here, we sipped on Lemon Balm Mead, a light bodied, brightly acidic mead, which brings forward citrus and notes of lemon balm.  Greenbluff Catering served a delicious roasted beet salad with sweet corn, garlic beet greens, swiss chard and feta cheese.  Thanks to Eleven Acres Farm for the beets, corn and greens and Hidden Acres Farm for the garlic! Hierophant Meadery can be found at Farmers Markets around Spokane or you can come up to Green Bluff on Wednesday – Friday from 12:00pm to 6:00pm, Saturday – Sunday from 11:00am- 6:00pm.
   Our third stop was at an Inland Northwest classic winery, Townshend Cellar. Townshend Cellar has been in operation since 1998 and is now owned by Michael and Brendon Townshend.
These brothers grew up watching their father create and build this business and they are now taking it to a whole new level of excellence. Our main course was served here, which was a Sumac seasoned salmon with a creamy garlic wine sauce over parmesan chive mashed potatoes. This was a rich and delicious dish and perfectly paired with Townshend's 2017 Chardonnay and Carmenere. One of Townsends most popular wines (mine as well😉) is the T3 red blend. In 2013, they moved the tasting room to a more central location on Green Bluff, creating an elegant, country tasting experience. They are open Friday-Sunday 12-5.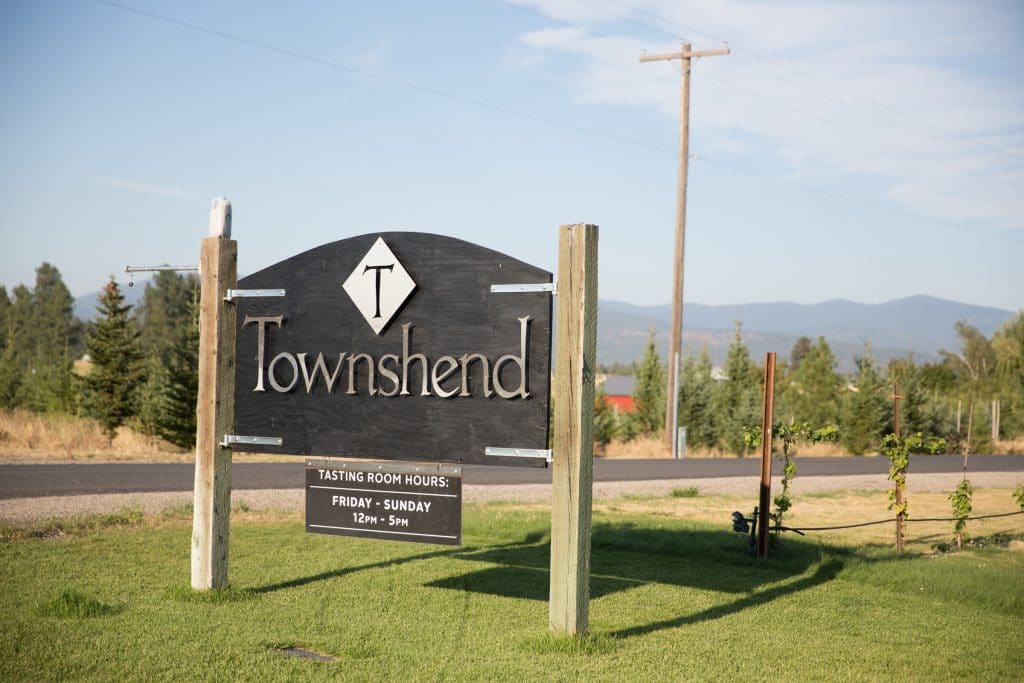 Our last stop was at Twilight Cider Works has recently moved their tasting room to the greenhouse adding twinkle lights and beautiful hanging flower pots. It's a beautiful place to hangout and sip on several crafted hard ciders. Here, we got to enjoy a scratch chocolate mousse drizzled with blackberry syrup and garnished with fresh blackberries & raspberries from Greenbluff Catering for dessert! Yes, it was just as wonderful as it sounds! My mouth is watering just thinking about it.  Thanks to Knapp's Farm for the eggs and berries and Greenbluff Honey Farm for honey.  We also sipped on Batch No. 8 Botanical, a carefully blended cider with unique combination of botanicals of hibiscus, lavender, jasmine, and rose hips. This is the 8th cider blend that Twilight has produced. It's such a privilege to be able to sip on a special blend that a grower has worked so  hard at creating, then to hear and see the excitement in their voice and face as they describe how it all came about!
   I can't end this blog without talking a little about Roian Doctor and Sabrina Sorger, owners of Greenbluff Fresh Catering Company. They started their catering business in 2015, and they also own Jamaican Jerk Pan, food truck. (My son loves this food truck so much). This helps them utilize the mobile kitchen to cook on-site, keeping the food as fresh as possible.  Sabrina was raised on Green Bluff and now lives and is raising their family in her grandparents farmhouse. We were so privileged to have them spoil us with so many yummy dishes at each location.
   From beginning to end, this event was a wonderful representation of the amazing farms, drinks, produce and the heart of the farmers who work very hard everyday to provide nutritious food and a family atmosphere for everyone who lives in the Inland Northwest. My hope is that you come on up with your family and friends to explore this beautiful part of Washington and take back with you something to share with those that you love.
Thank you so very much to Ari Nordhagen, @joyful.meandering, for the elegantly beautiful photography. Diane Holm, @whitepicketfence.com, for your amazing way of styling everything. 

 Thank you for making the evening so festively fun! Chandler and Dan Baird, @spokaneats, Sarah and Ryan Carleton, @gatherandsavor, Stephanie Regalado, @stephaniesbiglife, and Nate Ghering, @nateghering.