Do family reunions make you moan? Do you think "Oh! No! How can I find an excuse to get me out of this commitment?" I understand those emotions, but let me put a new twist on an old tradition. An all-girls cousin reunion! Yes…only girls! I think I just heard all the men collectively sigh in great relief 😉.  About 8 years ago a few of my cousins got together and dreamed up this crazy notion of a girls-only vacation. There are eleven girl cousins on my mother's side of the family. We live in five different states, so we rarely see each other. With a little bit of planning and a whole lot of crazy, we have now logged three get-togethers.  Our first vacation together was in California. Next, we traveled to Pennsylvania. Our third trip turned into a road trip. We started in Seattle, WA, drove to Joseph, OR and then ended at my home near Spokane, WA. We had 550 miles of catching up and laughing until our cheeks hurt (the ones on our faces 😉).
  My home was the last stop of our trip and it would be three years before we'd all be together again, so I wanted to make our last meal special. I have always wanted to host a meal in our orchard, so I got together with my friend Ashley from Ashley Graham Events and she put her classy touch on my fun idea. My theme for the meal was family.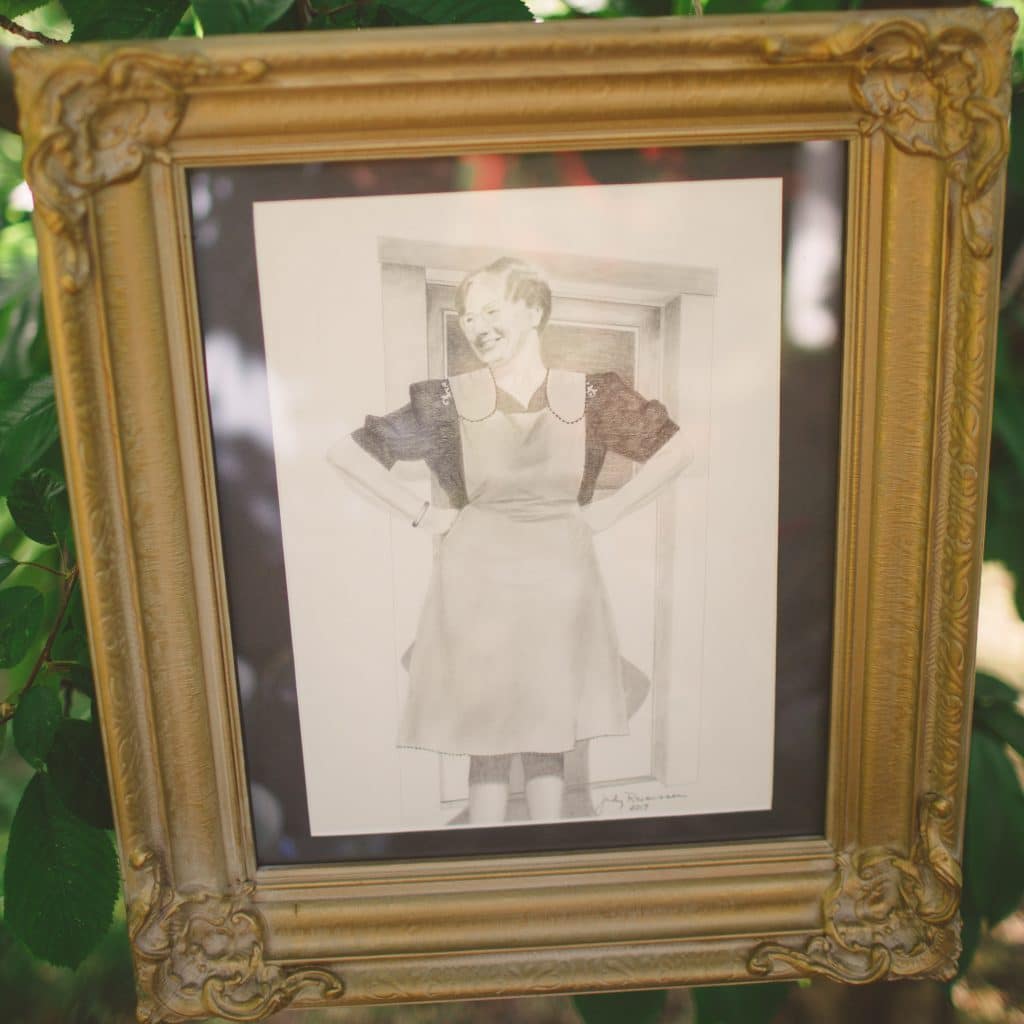 One picture of my grandmother brought it all together. I made a copy of it for each cousin along with a copy of her famous sugar cookie recipe that she had written out.
I then searched for old photos of each cousin's parent's.
I had a bunch of my grandmother's buttons and found some friends who would sew old fashioned aprons using those buttons. The hardest part was keeping the whole thing a secret from my cousins!
On the day of the dinner, the weather was perfect and I had so much fun blessing my cousins with all the little surprises. Our meal was grilled salmon with an amazing salad that consisted of purple cabbage, kale, and strawberries.
The dessert was so yummy! Batch Bake Shop made us individual cherry pies in the shape of an envelope, that we placed in a basket filled with almonds. The envelope symbolized the distance between us and the almonds were there to remind us of the almond orchard that our Grandparents owned when we all grew up.  
We spent the evening soaking up the last few hours visiting and enjoying each others company before we each went our separate ways in the morning.
There is a 17-year gap between all of us and we live many, many miles apart, but we are all such good friends and have so much fun when we are together. I cherish our girl family reunions!