I would love to introduce to you, Sabrina Sorger. Sabrina and her husband Doc own and operate Green Bluff Fresh Catering.  They are a husband and wife team who after years of operating a food truck, decided that using their mobile kitchen for catering would allow them the flexibility their lives demand. Sabrina comes from a long line of farmers, who homesteaded on Greenbluff in the late 1800s, making their children the sixth generation to live on that same property. Doc is an immigrant from Jamaica, where they are known for their bold flavors and unique cooking styles.
     One afternoon I saw a post of Sabrina's on Instagram that looked so delicate and enticing. She had made Caramel Apple Rosettes. When I commented about how yummy they looked she messaged and said she would teach me how to make them. So one afternoon Sabrina came over and we had fun making these delicate Caramel Apple Rosettes. I was surprised by how easy they were to make! I took a bunch of photos and videos to help you along in the recipe. Now you can make these Rosettes for special someone or bring them to a party. You will look like a rock star!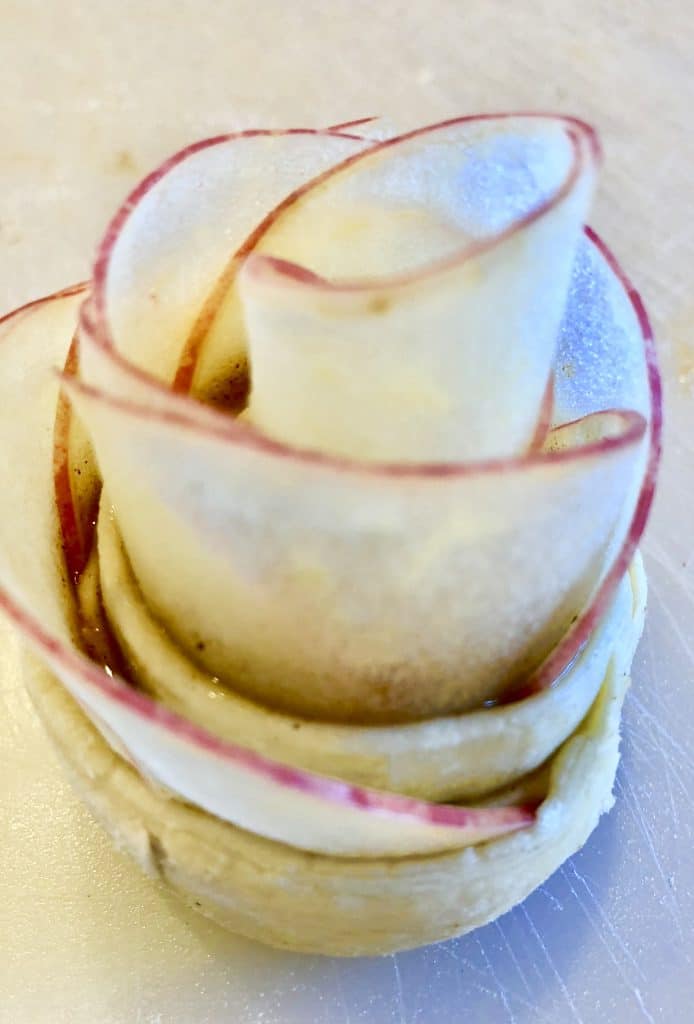 Caramel Apple Rosettes
Yields 12 rosettes
20 minute bake time
Rosettes
½ cup brown sugar
1 tsp cinnamon
¼ cup Athol Orchards apple cider syrup (or apple cider)
2 firm apples (depending on size)
2 cups warm water
1 tsp lemon juice
1 package puff pastry (2 sheets)
Caramel Sause
1c brown sugar
4 tbs  butter
Pinch of salt
1/2c half and half
1 tbs  vanilla extract
Another option is to use Caramel Kitchen's Old Fashioned Bourbon Caramel Sauce.
Preheat oven to 400 degrees and spray a baking sheet with cooking spray. Set aside.
In a small mixing bowl, whisk brown sugar, cinnamon, and apple cider syrup. Apple cider can also be substituted. Set aside.
If cutting apples on a mandolin, skip this step. If cutting apples with a knife, place warm water and lemon juice in a medium mixing bowl. Set aside.
Using a mandolin on the thinnest setting, cut apples in half-moon shapes and set aside. If using a knife, cut as thin as possible and place in the lemon water and microwave for 1 minute to soften.
Unfold defrosted puff pastry. Each pastry sheet will make 6 rosettes. Cut the puff pastry into 6 strips. About 1.5in x 8in long. Use your fingers to widen the dough if necessary.
With a pastry brush, brush the brown sugar mixture onto one puff pastry strip then arrange the apple slices halfway down the strip with the curved peel end sticking up. Each apple slice should overlap the last slice by half. Leave a half-inch piece at the end with no apples. This will serve as your "tail" to secure the rosettes.
With the pastry brush, apply more of the brown sugar mixture on the apples then fold the bottom half of the puff pastry on to the apple slices and press firmly to secure.
Starting at the non-tail end, roll the puff pastry on its end until you reach the tail. Pressing firmly with your fingers, use the tailpiece of puff pastry to secure the rosette.
Place on the baking sheet and make remaining rosettes then bake on the middle rack at 400 for 10 minutes. Reduce heat to 375 and bake for the remaining 10 minutes or until golden brown.
While the rosettes bake, make the caramel sauce. Mix the brown sugar, half-and-half, butter, and salt in a saucepan over medium-low heat. Cook while whisking gently for 5 to 7 minutes, until it gets thicker. Add the vanilla and turn off the heat.

As the rosettes come out of the oven, drizzle with caramel sauce. Serve rosettes with vanilla ice cream, more caramel sauce, or apple cider syrup (or all three).

Please go to Sabrina's website @greenblufffresh.com and check out their amazing catering company. Thank you, Sabrina, for teaching me how to make these delicate treats!