It's no surprise that we're passionate about our fruit, especially cherries! They're delicious, healthy, and versatile.
We grow Bing, Rainier, and Pie cherries.
Bing cherries are the dark red/purple cherries. Some customers say these are the sweetest cherries we grow. Then again, other customers would argue that the Rainier cherries are sweeter. You will have to come and conduct your own taste test to see which one you believe is the sweetest. Rainier cherries are the yellow/red/peach colored cherries. They have a light peach or white flesh. (They're my favorite for eating off the tree!)
Pie cherries are the smaller, bright red cherries. They're the most tart, and like their name indicates, they're most often used in baking and jams.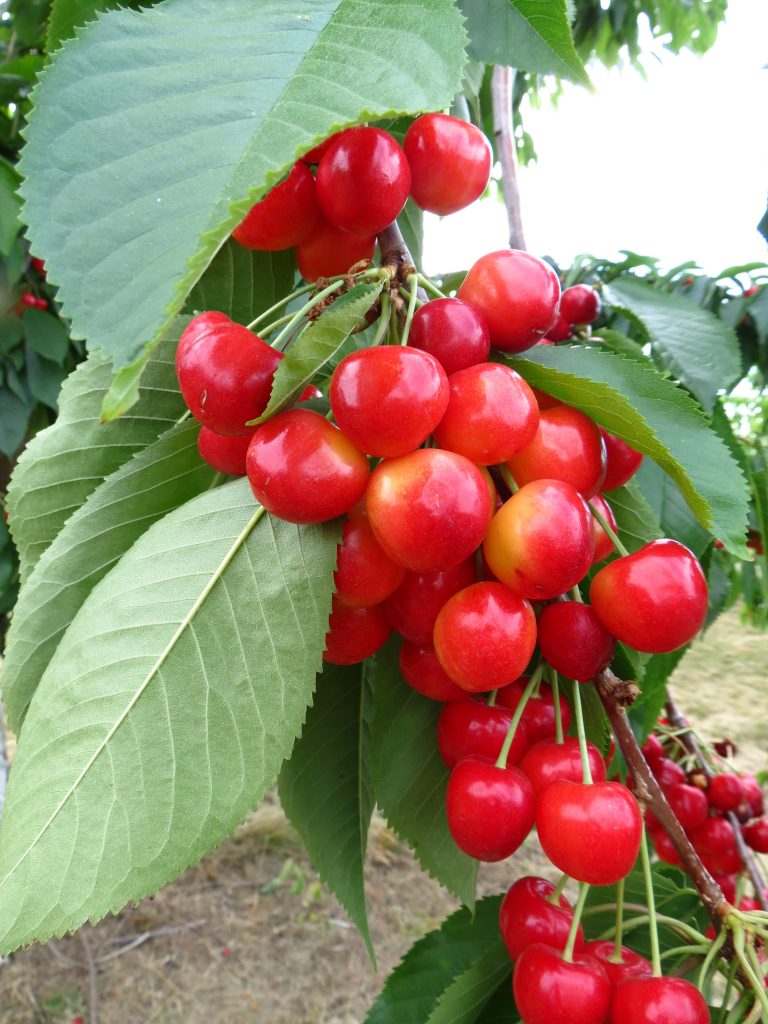 In Season
Cherries are generally in season late June through late July. The exact dates vary year to year, but once we're open, we're usually open for 3 full weeks before we're picked out.
Tips on Picking, Eating, and Storing
To keep your cherries fresh as long as possible, pick your cherries with the stems attached and don't wash them until you're ready to eat. Unwashed cherries on the stem can be stored in your fridge for up to one week.
I always hear from people that they've picked more cherries than they could possibly eat in one week. I think that's the best kind of problem to have– too many cherries! It's easily solved with canning, baking, jams and/or freezing. For step by step instructions on how to freeze your cherries (or other fruit), check out our blog post, "How to Freeze Cherries". Stay tuned for another blog post about canning cherries.
The most delicious way to eat cherries is in pie! We have a few tried-and-true pie recipes up on our blog. I highly recommend that you check those out! When you're picking cherries for pie, it's helpful to know a few conversions.
1 pound fresh unpitted cherries = about 80 cherries
1 pound fresh unpitted cherries = 2 1/3 cups pitted cherries
1 pound fresh unpitted cherries = 1 1/2 cups cherry juice
And They're Good For You Too!
Cherries are truly a guilt-free snack, and they're so tasty! Here are just a few of the health benefits that cherries offer:
Tart cherries have an anti-inflammatory property called anthocyanin.
Cherries may help reduce many of the risk factors associated with heart disease by reducing cholesterol, insulin and blood sugar levels.
Tart cherries are a rich source of melatonin, a powerful antioxidant that contains potent levels of Vitamins C, E and A.
One cup of Cherries is only 90 calories.
Stop by our orchard during cherry season! We'll be happy to answer any questions you have, and we won't be surprised if you leave a little more excited about cherries!